---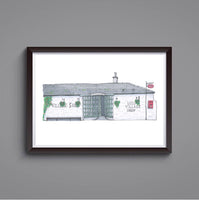 Limited edition print of 'Luss Village Shop', of the original hand drawn artwork by Steven McClure.

A4 size.

Luss Village Shop is located in the village of Luss, Loch Lomond, Scotland.

Other prints available from the LUSS Collection, available separately and also to buy as a COLLECTION with a bonus print.

Located within the Loch Lomond and the Trossachs National Park approx 20 miles from Glasgow.

Nestled on the banks of Loch Lomond, Luss is a delightful village, and a very popular tourist attraction throughout the whole year.